<!- mfunc search_box_body ->
<!- /mfunc search_box_body ->
<!- mfunc feat_school ->
Featured Programs:
Sponsored School(s)
Sponsored School(s)
All school search, finder, or match results, as well as colleges and universities displayed as "Featured School(s)" or "Sponsored Content" are advertisers that compensate us for placement on this site. The resources, editorial content, and school evaluations published on this site are developed independent of the schools that advertise here.
<!- /mfunc feat_school ->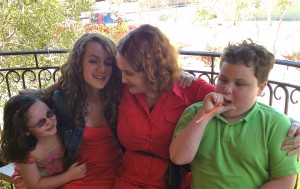 Being a parent of an autistic child has absolutely changed my life, but not for the reasons you might assume: my son Leo's autism has not ruined my life or destroyed my marriage, nor has parenting an autistic child made me a nobler, better person.
What being an autism parent has done, and what Leo himself has taught me, is the necessity of appreciating, loving and respecting all kids for exactly who they are, and demanding respect and understanding from anyone who encounters them. Parenting Leo has turned me into an activist.
Focusing on Humanity and Equal Rights
Asserting that my son's life and happiness are as important (to him!) as anyone else's may seem like Basic Human Dignity 101. But, most parents like me don't get the message that it's our job to focus on the humanity and equal rights of our kids with disabilities–especially kids with multiple and significant needs. The mainstream media just can't stop treating autistic people like Leo as special angels or damaged burdens to society and parents like me as martyrs or autism's zombified victims. My wonderful, amazing son deserves nothing less than me confronting those messages head on, speaking up and speaking out.
Combating Negativity
It's an uphill battle. Default negativity seeps into even traditionally impartial media outlets, as when NPR's This American Life recently reran a 2006 story about a family's decision to put their autistic teenage son in residential placement. While I understand that such arrangements can sometimes benefit autistic people as well as their families, the story framed autism as a siege that the family was enduring because they had no choice. There was no attempt to humanize the autistic son, to understand him or the possible reasons for his aggression. If I had been a casual listener, my takeaway would have been this: Autism is hell—a takeaway unfair to every last autistic person on this planet.
If these negativity bombs are what the even-handed mainstream media outlets use to characterize autism parenting, how are new parents supposed to view autism with anything other than abject terror? When parents of autistic children are encouraged to view themselves as resentful victims, that is a significant barrier to understanding that disability is part of natural human variation, accepting that it has become part of our lives and directing our energies into supporting our kids.
<!- mfunc search_btn -> <!- /mfunc search_btn ->
Media hit pieces on autism families also make me grumpy because Leo is such a great person. He's sweet, mischievous, a good listener, a self-taught swimmer, a stalwart hiking companion and a spreader of joy. At this point, because of his autism, I'm supposed to write "but" and list his challenges because—again—making autism discussions about negatives rather than positives is what we've been conditioned to expect. That's how many well-meaning experts and fellow parents write about autistic people: put them on display, catalog the reasons to treat them as lesser and keep the cycle of discriminatory or self-pitying attitudes going—ensure that the world keeps treating autistic people like Leo separately, differently.
I won't have it. My son matters.
Fighting for Quality of Life
It is brutal to live in a society that both fears and does not care to understand and accommodate people like my son, that does not care to make educating about autism and disability part of everyone's reality. And so, like the self-advocates Leo and I admire, we parents have to fight. We fight school districts that deny our children services. We fight for respite care that improves quality of life for our children as well as ourselves. We fight for alternative communication evaluations and devices. We fight.
Being an autism parent won't always be this way. Autistic rights and disability rights are civil rights. I tell myself that eventually, our society will be forced to realize this truth. I have this faith because organizations like the Autistic Self Advocacy Network are already affecting policy, already being forces for positive change. I want other parents to be aware of and support such efforts so that they can share my faith about our children's future.
I also take heart in the activism of other autism parents, of individual autistic advocates and of in-tune professionals who never stop urging our society to embrace Leo and other autistic people, and whose efforts will lead to that accepting world they so deserve.
<!- mfunc search_btn -> <!- /mfunc search_btn ->
I look forward to that world, in which Leo and other autistic people don't have to explain their presence or justify even the most extensive physical, social or educational accommodations; in which people don't question sensory needs, the utility of flapping hands or the comfort of stimming (self-stimulatory behavior) and routine. Society wouldn't cordon off my family in a pity backwater. And I'd simply be accepted as who I already am: a happy parent, doing the best I can for my beloved kids.
Until then, I have work to do.
About Author: Shannon Des Roches Rosa
Shannon Des Roches Rosa writes frequently and speaks internationally about iPads, autism, and parenting. She is senior editor and co-founder of the "Thinking Person's Guide to Autism" book, website, and online community (http://thinkingautismguide.blogspot.com). She is also a contributing editor for BlogHer.com. Her personal website is www.Squidalicious.com. She lives near San Francisco, California.